SpiceBee
Ingredients 2 tablespoons olive oil 1 teaspoon mustard seeds 1 large onion, chopped 8 garlic cloves, thinly sliced 1 1-inch piece ginger, peeled, finely chopped 2 dried chiles de árbol 1 tablespoon curry powder 1 cup sugar ¾ cup apple cider vinegar ¾ cup malt vinegar 1 2-inch-long cinnamon stick 1 bay leaf 2 teaspoons salt, plus more 1 14.5-ounce can crushed tomatoes 2 tablespoons fresh lemon juice ½ teaspoon cayenne pepper Recipe Preparation Heat oil in a large saucepan over medium. Cook mustard seeds, shaking pan, until they start to pop, about 2 minutes. Add onion, garlic, ginger, and chiles and cook, stirring occasionally, until onion is translucent, 5–8 minutes. Stir in curry powder and cook, stirring often, until mixture is very fragrant, about 2 minutes. Add sugar, both vinegars, cinnamon stick, bay leaf, and 2 tsp. salt and cook, stirring to dissolve sugar. Add tomatoes, increase heat, and simmer, stirring occasionally, until water evaporates and mixture is thick (you should be able to see the bottom of the pot when you drag a spoon through it), 40–50 minutes. Remove from heat and stir in lemon juice and cayenne. Season with more salt if needed.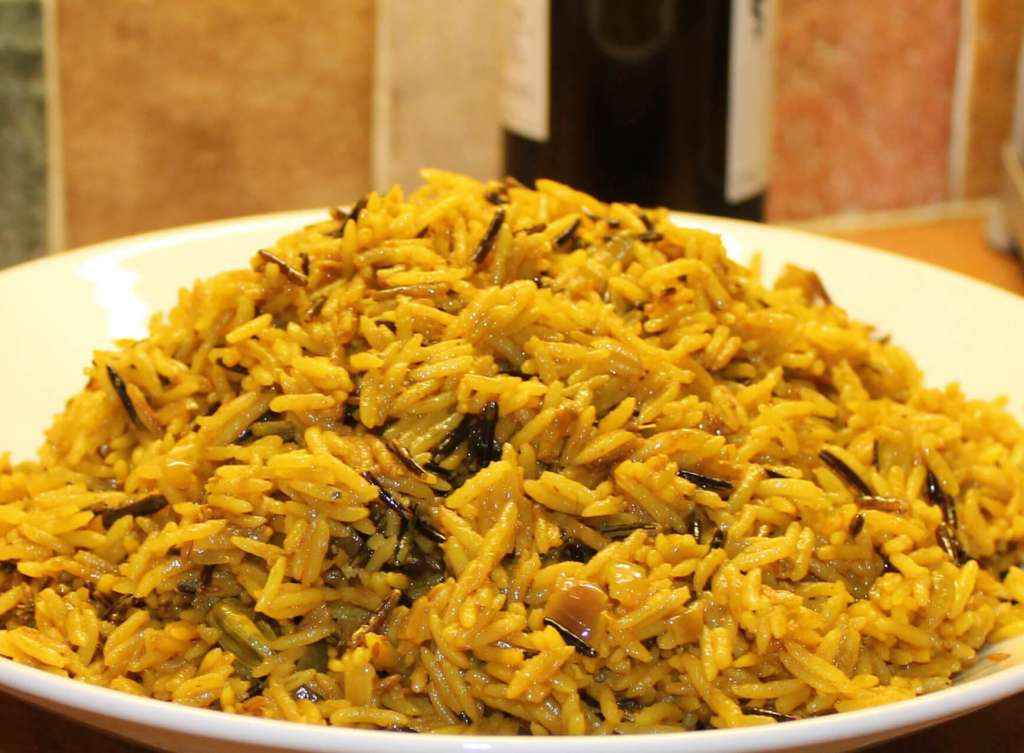 SpiceBee
Ingredients Butter - a large knob Pilau Rice Spice Mix - 4 teaspoons Onion - 1, finely chopped Basmati rice - 4 servings Stock - 2 x volume of rice Salt - 2 teaspoons Method Melt the butter in a heavy pan, add the Pilau Rice Spice Mix with the chopped onion and fry until golden. Add the Basmati rice and gently stir to coat in the butter & spice mixture. Add boiling stock and salt, stir once only then cover and cook on a low heat until the rice is tender and stock is absorbed. Remove from the heat, cover with a tea towel for 10 minutes, then serve.
SpiceBee
National vegetarian week last week has had so many of you visiting the website for cooking inspiration, vegetarian curry recipes and also sharing photos on Instagram, Twitter and Facebook of everything you've been cooking from the cookbook and all the recipes you've tried here. I continuously get requests for recipe you want to find out more about. Aloo Gobi has been by far the most requested. There are plenty of versions using the humble cauliflower in Indian cooking including with gravy, pickled with spices alongside regional variations of this dish. I've shared a really delicious cauliflower curry with green peas in my book which is a family favorite. This recipe for spiced cauliflower with potato is my go to for when I need something thats easy and delicious. So its great for a midweek meal and also brilliant as an accompaniment when you have plenty of variety at your dinner table. Punjabi Aloo Gobi cooked with turmeric, chillies, coriander and ginger all lending a delicious flavour to the vegetables. This is a dry dish and perfect to scoop up with chapattis or naan along with raita. I prefer using chunks of boiled potatoes as it speed up cooking and also the potatoes soak up all the flavour from the spices and any remaining moisture thats leftover in the pan. One of my favorite ingredients in Indian cooking is dried fenugreek leaves and is perfect to finish the dish. I use it in vegetarian as well as chicken dishes. You can leave [...]
SpiceBee
There is nothing like a warming bowl of stew for a cold evening. My recipe for a Kerala style Chicken stew is perfect to bring warmth and spice. Coconut milk, whole spices and fresh herbs including coriander, chillies and curry leaves make this stew or 'ishtu' (as its known in southern India) so very delicious. This is one I've grown up eating and though it's not often you'll be able to slurp down a bowl in your local Indian it most definitely worth making it at home. This is a really simple version and one thats perfect with just a few spices. Its a one pot dish and a soupy broth like consistency which I savour with some dosa. You can swap the chicken for vegetables or turkey even. If you prefer a thicker creamier curry make sure to lessen the quantity of water and coconut milk slightly and simmer without the lid at the end. Finish the dish with fresh herbs and serve with rice, soft dosas or some flaky paratha. Ingredients 1.2 kg skinless chicken on the bone cut to medium pieces 150gm white onion 5 cloves of garlic 2 tbsp vegetable oil 1 green chilli slit lengthwise 2" cinnamon stick 3 cloves 4-5 green cardamom pods 12-14 curry leaves 1 tsp coarsely ground black pepper powder 150mls water Salt to taste 400 mls coconut milk ½ "piece of ginger slivers 1 green chilli thinly sliced Coriander for garnish Method Using a blender, make a fine smooth paste of the white onion and the garlic cloves with 30mls water to help. Heat oil in a deep [...]
SpiceBee
If there is one thing I have at the top of my list for every trip to India it's got be Chilli Chicken. Succulent chicken coated in a thick batter and fried until crisp are added to a garlicky chilli luscious gravy. Served up with some noodles or fried rice; its the sort of food we need in the winters to warm up a cold evening. Of course Indian Chinese isn't quite the authentic Chinese food that you would probably be vying for but then what can you expect from gravies, noodles and snacks that are utterly garlickyfied or chillified (I realise I just made up those words!). Then again it's delicious and for me that's what matters as does for Indians that are crazy about this cuisine. Most friends I know have a favourite street stall to visit for their Indian Chinese fix. From hakka noodles, fried rice, chicken chow mein and chop suey. And the list goes on. As much as a street food fave, chilli chicken is also served across restaurants in India. You'll find all of the above that I have mentioned in most places and for a late night snack there could be no better meal. Flavours in Indian Chinese food are bold and yet have a balance of sweet, sour, salty and spicy. Simmer, stir fried and deep fried it's all going on. Its the food I grew up eating in India and truth be told I knew nothing else of Chinese cooking. Much to my disappointment I [...]
SpiceBee
All too often a boiled egg or plain scrambled egg just doesn't quite cut it. My all time favourite breakfast on a weekend is Anda Bhurji spiced scrambled eggs piled on buttered toast. So satisfying. Most Indian regions have their unique way of cooking eggs with spices and the state of Andhra Pradesh is no different. This is a personal favourite and I think the combination of the heat from the chilli and sour tamarind make it quite moreish. Coconut milk is used sparingly to add the creaminess to the dish; the bland boiled eggs soak in all the flavours of the spices in the gravy. You can leave the eggs whole if you prefer though I like to halve them. Added to the dish last minute letting them steep in the warm curry. Serve with rice, flat bread or dosas as I did. Soft dosas soak in all the flavour and help mop up the egg curry. Simply gorgeous! Ingredients (Serves 4) 3 eggs boiled, peeled and halved 2 vegetable oil 1 tsp mustard seeds 1 medium onion finely chopped (or 5-7 small shallots thinly sliced) 1 small cinnamon stick halved 2 green chillies slit lengthwise 2 tomatoes roughly chopped 1" piece ginger thinly sliced ½ tsp turmeric powder 1 tsp kashmiri chilli powder (or mild chilli powder) 1 tsp coriander powder 1 tsp tamarind concentrate 100mls water 50mls coconut milk 8-10 curry leaves Salt to taste Method Heat the oil in a heavy bottom sauce pan. Add the mustard seeds letting them splutter for a few seconds. Add the onions and fry for 5-7 minutes on [...]
SpiceBee
Goan Ambotik is a classic recipe hailing from the west of India. Cooked traditionally with fish the key to this recipe is the use of fresh coconut rather than coconut milk. I've used prawn in my recipe as the sweetness of the prawns is perfect with the hot and sour flavours of the gravy. 'Ambat' in the local language means tangy and 'tik' or 'tikhat' as in Maharashtra/ Goa means spicy or hot. The heat of the curry comes from the dried chillies. I've opted for Kashmiri chillies which lend a lovely flavour and colour to the gravy. If you like it spicy use 10 or reduce the quantity if you prefer it milder. The paste also include vinegar and goan vinegar is perfect for it which lends the sour element. Finish the curry with tamarind paste although as always make sure to taste you curry before you add the tamarind and add only as much as you require. My tamarind paste is fairly diluted so 1 teaspoon is perfect! Served with plain rice this is what a Friday night at home needs! Ingredients (Serves 4) 10-12 king prawns deveined and shells off with tails left on ½ tsp turmeric powder Pinch of salt 3 tbsp vegetable oil 100gms white onion finely chopped 70gms tomato 400 mls water Pinch of sugar Salt to taste 1 tsp tamarind paste Coriander to garnish for the paste; 1 heaped tsp cumin seeds 1 tbsp coriander seeds 4 cloves 8-10 dried mild chillies (or Kashmiri dried chillies) 150gms grated coconut 6 garlic cloves ½" ginger roughly chopped 60mls goan vinegar (or malt vinegar) 150 mls water Method Add [...]
SpiceBee
A steaming bowlful of tariwala gosht with tandoori roti served on a rickety table at a no frills dhabba (roadside home cooked stalls) near Ambala. It's the food that brings us here on every visit. The tandoori dishes and dal fry are amazing but the gosht is definitely one to try as well. There really isn't much much gosht/ mutton in the dish (well it is a no frills dhabba!) but to be honest it's the gravy that I have always craved. I would happily devour a bowl of curry with roti than eat the meat unless its working my way through the Nalli/ marrow filled pieces. This thin soupy curry is spiced with ginger, chilli and tomato and served with some onions and lemon on the side. I ask for extra 'tari'/ gravy which is perfect to dip the leftover roti in. Its perfect comfort food and made with basic ingredients that have some amazing flavours. Tariwala gosht is very much part of everyday Indian home cooking too and a basic curry that most households make. This can be made with chicken or mutton. My mum made a similar curry on Sundays with mutton. Despite such humble ingredients the warmth and balance of spices in the dish was something I always loved. While the mutton was simmering away, the aromas were so enticing and I couldn't wait to tuck in with some rotis. If there was any left we would eat it the following day just with some crusty [...]
SpiceBee
INGREDIENTS: 1kg chicken, 4tbs chicken masala 2 onions, chopped or pureed Green chilly 3no 2 tsp. ginger paste 2 tsp. garlic paste 1 tomato Chopped salt to taste Cilantro/coriander leaves 1 tbsp. oil METHOD OF PREPARATION: Heat oil in a saucepan and fry the onions, ginger and garlic, together and cilantro/coriander leaves for five minutes on low heat. Add tomato,4tbs  chicken Masala , chicken, and salt and mix for few minutes then add half cup of lukewarm water and cook on a medium low heat for half an hour, keeping the saucepan covered with a lid.